Our Nascar Fan Stories

Yes we are huge fans in the Evil household.
Evil was born and raised in Charlotte, home of Nascar. You can't grow up in that town without being exposed to racing. But his interest was a gradual thing. It began in the 1980s when he hung out with his closest friend, who happens to be his cousin, Kevin. Kevin was a big Dale Earnhardt Sr. fan. So it wasn't unusual to find both boys relaxing on a hot Charlotte Sunday in the summers watching a race on TV.  EW is all about family and of course he supported the guy who was his cousins favorite driver. But that support slowly became his own and soon EW was not only a fan of Nascar but a die-hard fan of Dale Sr and that black #3.
Like everyone else, Evil was stunned when Dale Sr. was killed at Daytona. And like a lot of fans, his commitment to racing didn't end, but rather shifted to The Intimidator's son; Dale Jr. And he's proud to be part of Jr. Nation!
---
Spring has been a fan since Darrell Waltrip's rookie year in 1972. Being a fellow Tennessean, from Franklin Tennessee that little link made him her guy. As seasons came and went she picked up a second favorite, Davey Allison.
There was something about the black 28 Texaco car that simply made it and him special. When Davey died after his helicopter crashed July 13, 1993 in Talladega, the effect was similar to how race fans felt when Dale Earnhardt Sr died at Daytona. She couldn't watch races any longer and turned away from Nascar.
Growing up in the shadow of DC Spring was of course a Washington Redskins fan. In 1991, Joe Gibbs started his Nascar race team. And she was thrilled watching the call of Ned Jarrett for his son Dale Jarrett when he won the Daytona 500 for Joe Gibbs Racing in 1993.
But it wasn't until 1998 when she returned and watched a few races here and there, supporting who ever drove for Joe Gibbs. In 1999, sitting at home and watching the September 11, 1999 Exide NASCAR Select Batteries 400 in Richmond she took notice of the rookie leading the race. This would be his first win and everyone pulls for the underdog. When he won, his "attitude" came out in the Victory Lane interview and she took interest. He drove for Joe Gibbs, even better! And she became a devoted Tony Stewart fan from that moment on!
---
The little prince started his Nascar fan career at a fairly early age. Walking through the local mall we took a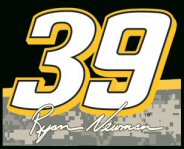 visit to a Sport Memorabilia store. Wandering around he took off toward the blue #12 road sign and at the tender age of 5, he had chosen his driver in December 2007. At the time, Ryan wasn't doing that well in his Nascar career and Mom and Dad tried to talk him into supporting someone else. But the Prince was adamant about his choice and you can't argue with that. The first race of the season arrives and look who leads the pack across the finish line for the 50th Anniversary of the Daytona 500 in 2008! Yeah Ryan.
When Ryan moved over to Stewart-Haas Racing, it was the perfect fit for his career and for our family. The Prince's favorite guy and the Queens favorite guy were driving under the same banner! Now if that isn't the kewlest thing, what is!

© 2012 Evil Wordsmith. Evilwordsmith.com. All Rights Reserved.