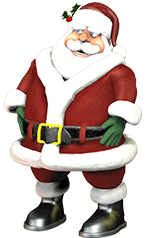 The Official NORAD Santa Tracker
They're up and running and have been for a few weeks now. The NORAD website that helps all kids, young and old to track Santa's journey across the sky on December 24th.
You can receive updates from the North Pole and to discover new surprises on Santa's Activity Page.
And even more important, you can find out how you can help make this Christmas very special for those who serve our nation with Operation Good Will.
Oh and don't forget to check out their Facebook page, or down load their app for Android and iPhones!


  © 2012 Evil Wordsmith. Evilwordsmith.com. All Rights Reserved.