2012 Fall Race – The Big One
It seems racing at Talladega brings out the funny side of Tony Stewart. Matt Kenseth won the Good Sam Roadside Assistance 500 when "The Big One" happened on the final lap as the #14 driven by 3-time Champion Tony Stewart was racing hard against Kenseth's #17 on the high side of the track.
Tony was coming down to protect his position, when Michael Waltrip had a big run on the inside line of cars. Tony thought he was clear, telling reporters after the race "It's my fault. I take 100 percent of the blame. I was trying to win the race and stay ahead and Michael got a big head of a steam. I turned down across the front of his car. It was a mistake on my part, but it made for a bad day for a lot of other guys."
As a race fan, I'd rather my guy crash running hard for the win, instead of sitting back in a safe position settling for a finish. It's Talladega and everyone knows how hard it is to pass and keep your position on the final lap. And Smoke did man up and responsibility. As drivers continued to come out of the infield care center and saw the race coverage, each one said they were glad Tony was ok. There was no anger or animosity, it's racing at Talladega. Jeff Gluck has some of the best coverage of the race and it's aftermath on SB Nation.

But all that isn't what hit the top of the news cycles this week. It wasn't Tony taking responsibility, or the concern for driver safety. It wasn't Dale Jr's comment about this is the kind of racing this package is creating and it's making the races more dangerous. Nope. What hit the big news this week was Smoke's typical Talladega humor! And this isn't the first time Tony has given Talladega his brand of humor. Back in May of 2012, Tony gave what many call this most Bizarre After Race Interview. We his fans simply call it Vintage Tony!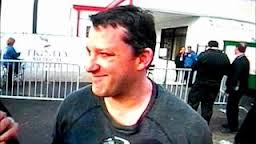 This time the first thing he was asked when he left the care center was "Are you ok?" and in his usual Tony Stewart sarcasm he responded with a slight nod "I'm a finely tuned athlete. I have a good workout regimen," he said smiling.
Of course the haters jumped right on the humor. But wait a minute. he does have a good workout regimen. He works out several times a week, every week driving in other modalities of racing. I remember several years ago (I'm old, so I mean SEVERAL years ago) Burt Reynolds was talking about the first time he met Mario Andretti. There was a slight argument and the two men walked outside to settle the issue. Reynolds said he didn't realize how strong drivers were until he got hit. It was a humorous story only because the two men were told who each other was and they stopped fighting because they were laughing so hard at each other. Burt said when they became friends, he discovered what a work out is to drive a race car. And it didn't really matter what kind of car it was or what the track was like. It's a work out for both the upper and lower body, not to mention the training for endurance.
So before the nay sayers start with their usual "fat boy" rhetoric, maybe they should strap themselves into a car and go racing on a championship level that's enjoyed by Nascar drivers.  Tony IS a finely tuned athlete. And we his fans really like him that way!
Once again Nascar IS a sport, and it's drivers ARE athletes.



© 2012-2013 Evilwordsmith.com. All Rights Reserved. Springwolf, D.D., Ph.D.