Compass Apps
Recently we had an opportunity to watch the Antares Rocket launch from Wallops Island in Virginia. We needed to know the exact direction from our viewing position and Evil forgot his nautical compass. Well there's an app for that! There are a lot of apps for that. Be careful though, some only display information in their home creators language. I found many for Chinese and Japanese that don't have options to translate to English. Not all compass apps are accurate, so read the reviews others have left. I downloaded three apps and checked them out. Here's what I found.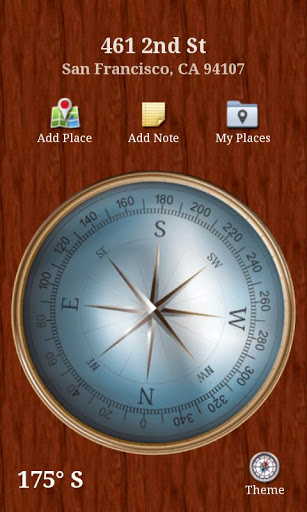 Compass by Catch.com – ☆☆☆☆☆
Works great on my Galaxy Nexus. We put this app up against my husbands nautical compass when we got home and it's matched up in accuracy perfectly. It's great whether you're standing still in your backyard for star gazing, or on the move in the car driving down the road. I really like it. The free version has several themes that can be used, and there are more you can purchase. Frankly I'm a big fan of the wood/antique look one which is part of the free version. – The only thing I'd like to see added is for the latitude and longitude to be displayed under the address that's displayed at the top of the screen. That's very helpful when you're star gazing.
Smart Compass by Smart Tools Co. – ☆☆☆
If you have Samsung Nexus anything, don't bother. In its current state as of 04/2013 its erratic and not as accurate as Compass. It has some nice features, but it also has some that are rather annoying. Although you may turn the phone into portrait or landscape mode, the heading is fixed. I don't want to read sideways. For me, it was kind of useless.
Tiny Compass by Nikolay Ananiev – ☆☆☆☆
No frills! Accurate within 10 feet. It lacks information that is provided by Compass by Catch. But if you're looking for nothing but a compass where you can derive other information on your own, this would be the app for you. I like a little frill, so I wasn't impressed with this one. But for what it is, it's good.
Update: Screen Saver Apps
Photo Slides (Photo Frame) by Softick Ltd. – ☆☆☆☆☆☆  – Yes, that's 6 stars..I like it that much!
In a recent update Softick has provided an option to display the status bar of your phone while the screen saver is running. I really like this, because some of my alerts for news or weather don't take over the phone, they display as an icon in the status bar. So I really like this update…especially since it's one I suggested!
You can see all my Long, Continually Running Android App Reviews on my Android App Review page.


© 2012-2013 Evilwordsmith.com. All Rights Reserved Springwolf D.D., Ph.D.