Holiday Apps

Now that the holidays are upon us, there are a couple of apps you might like for the kid in you.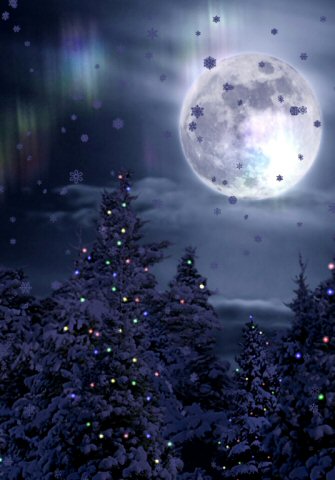 Snowfall Live Wallpaper by Kittehface Software
Live wallpaper for the holiday. Falling snow, holiday lights on the trees, and you can even select an option to have Santa fly across the screen from time to time. He increases his appearance the closer it gets to December 25th.
This full version has tons of settings for colors, Christmas lights, time of day tracking, camera speeds, Santa sightings, snow appearance, and more!
PERMISSIONS: Coarse location is to allow calculation of accurate sunrise/sunset times!
ReindeerCam by ReindeerCam LLC
Do you believe in Santa? We've got proof he exists! Discover what over 1 million already have – that Santa is real! See Santa's reindeer live on your mobile device! Watch with your own eyes as Santa himself feeds the reindeer!
Santa feed times everyday November 16th through December 24th, 11AM, 6PM & 9PM EST
NORAD Tracks by Santa Visionbox, Inc
The NORAD Tracks Santa App is the official mobile app of the NORAD Tracks Santa program. Watch the days countdown to Santa's flight, follow Santa's progress on December 24, play "Thin Ice" to help Santa's elves deliver presents, and learn about NORAD and its mission. Please note that the countdown in the app is NOT a countdown to December 25. It is a countdown to when the app begins tracking Santa's flight.
Mindfulness Bell by Mindful Apps
Live your spiritual beliefs every day by practicing Mindfulness.
The Mindfulness Bell rings periodically during the day, to give you the opportunity to hold on for a moment and consider what you are currently doing, and in what state of mind you are while you are doing it.
App Update – Avoid Spying and Privacy Infringement
In a recent article on Slashdot.org some popular Droid apps were outed for recent privacy infringement. One of my favorite flashlight apps to be specific, recently updated their app to add ads to their display. But they added something else too, spying. They collect data from your phone, such as your location and browsing history and transmit that to 3rd party advertisers. This creates a huge drain on your battery as well. 
That sent me off looking for a new flash light app. So if you use the popular Brightest Flashlight by GoldenShores Technologies, Dump it! Quickly!!
My new favorite flashlight app:
Droidlight LED Flashlight by Motorola Mobility LLC. : ☆☆☆☆☆
My new favorite flashlight app. It requires NO special permissions. It only requests access to your camera. Now don't be concerned about this. After some investigation I discovered that in order for an app to control the LED on your phone, it has to "go through" the camera app. to turn the flash (the LED) on and off. Like other apps, it turns on the LED and displays a light bulb on the front. Tap the light bulb and the LED turns off, and the soft light blub remains.
Check out more on my Continuous App Review page. 


© 2006-2013 Evilwordsmith.com. All Rights Reserved, Springwolf, D.D., Ph.D.