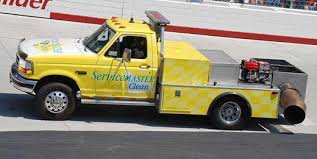 Brought To You By Stewart Haas Racing
Sunday Sept. 15, 2013
During the rain delay at Chicagoland Speedway, Stewart-Haas Racing took time to interview the star of the day, the Jet Dryer on Twitter.
@StewartHaasRcng:
After driver intros, Jet Dryer media availability will begin here @ChicagolndSpdwy.
StewartHaasRcng – Q: When will it stop raining?
Jet Dryer: "If we knew that, we'd be a bookie in Las Vegas."
Q: Do you dry the track any differently for the Chase?
Jet Dryer: "You go to the track, you dry it, and you get points for it."
Q: Take us for a lap around @@ChicagolndSpdwy.
Jet Dryer: "Turn on jet dryer & then go straight, left, left, straight, left, left."
Q: Is there a "Chase mode"?
Jet Dryer: "You just take that extra little time, go through checklists twice."
Q: How does the jet dryer work?
Jet Dryer: "Guys, it's not rocket science. Wait, I guess it is."
Q: How do you approach these next 10 races?
Jet Dryer: "Our philosophy of drying the track doesn't change week to week."
Q: Is there a point in the Chase when #ItsGoTime?
Jet Dryer: "Until they say the track can't be dried, you're never out of it."
---
Evil followed that up with a new Coca-Cola Racing Family Commercial featuring the Jet Dryer:
The commercial begins with the Coke Drivers standing on pit road under umbrellas watching the Jet Dryers slowly moving around the track.
Newman "I think I could do better".
Danica looks at Ryan and replies  "Race ya."
Next scene, Coke drivers in their race cars towing the Jet Dryers around the track in a speedy race.
The camera pans around the track to Tony sitting on pit wall in his cast talking to a Nascar Official:  "See I told you we'd get the track dried quicker."
The commercial ends by panning down pit road behind Tony and the official.
A red race car is pulling a Jet Dryer that's on fire as Tony shakes his head and says "Montoya", then drinks his Coke.
.



© 2006-2013 Evilwordsmith.com. All Rights Reserved, Springwolf, D.D., Ph.D.