July 23, 2011
Nascar Nationwide Series Race In Nashville Tennessee
One, if not the best portion of Saturday's Nationwide Race in Nashville, came from Pastor Joe Nelms who proves an invocation doesn't have to be stoic to be effective. Right away fans began tweeting, blogging and posting on social media networks how great the pre-race prayer was. Labeling it the Best Invocation Ever! Within minutes the video was posted on YouTube and sports blogs. SBNation.com's Brian Floyd likened the invocation to a scene from Talladega Nights. What some may not know is this isn't the first time we've seen Pastor Joe deliver a pre-race invocation and make it a memorable one. We remember last years invocation which was equally jovial, though perhaps not as memorable as the one delivered tonight!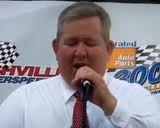 Transcript of:
Pastor Joe Nelms
Of Family Baptist Church in Lebannon Tn.
Heavenly Father we thank you tonight for all your blessings you said in all things give thanks.
So we want to thank you for these mighty machines that you've brought before us.
Thank you for the Dodges and the Toyotas.
Thank you for the Fords and most of all we thank you for Roush and Hendrick to give us the power that we see before us tonight.
Thank you for GM Performance Technology and ro7 engines,
Thank you for Sunoco racing fuel, and Goodyear tires and great performance and power to the track.
Lord I want to thank you for my smokin' hot wife tonight Lisa my two children Ely and Emma. Or as we like to call 'em the little 'Es'
Lord I pray bless the drivers and crews tonight. May they put on a performance worthy of this track.
Boggity Boggity Boggity
Amen

© 2012 Evil Wordsmith. Evilwordsmith.com. All Rights Reserved.