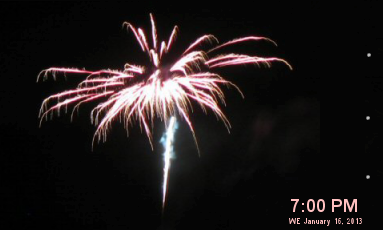 Set Up A Digital Picture Slideshow
I'm a Mom and like all Moms I love looking at and displaying the pictures of my family. Today you can spend hundreds of dollars on digital picture frames and set them around your house. You can set up screen savers on your PC and show off your pictures when you're not working. Or if you're on Windows 7 or greater, you can set up a desk top widget and display your albums proudly.
Now when I'm working on my PC, I have multiple windows open and I'm constantly doing something. It's not often during the day that the screen saver has time to kick in. So having a digital picture frame would be awesome on my desk. I received a digital frame for Christmas one year and it worked for about 10 months before it crashed and we could never get it working again. Thankfully the husband didn't spend that much on it, but it was enough to steer us away from other frames and especially more expensive ones. 
When I picked up my new Galaxy Nexus one of the first things I did was move a few current family pictures to it. Mostly because I was going to meet family for lunch and I knew they'd want to see the latest photos of the Prince. On the way home I wondered if there was a digital frame app? It wasn't until today that I had to really sit down and look for one.
Sadly most of what I found were Live Wallpapers that offer slideshows, but they display the slideshow on your wallpaper with all the icons on top of your pictures. That's not what I wanted. And I don't want to change my Live wallpaper in favor of my photos either. I like the snow falling in winter, or the cherry blossoms falling in spring and so on.
Here was my criteria:
A screen saver that displays MY photos

A "screen saver" not wallpaper

I don't want to see the phone's icons on top of the photos

Displays photos/images from multiple folders in my phone file system

Executes easily when my phone is plugged in and charging

Doesn't drain the battery or can be turned off when running on battery

Randomly displays the photos/images

Displays photos in both Portrait or Landscape mode automatically

Fits photos/images to screen size, no cropping

Doesn't take over the operation of the phone's other apps

Displays date/time (this was a nice to have more than a requirement)

And I found it!
Photo Slides (Photo Frame) by Softick Ltd. – ☆☆☆☆☆☆ 
Yes, that's 6 stars..I like it that much!
There are 2 versions as usual; the free version and the "donation" version which is $1. And NO Ads, even in the free version. Frankly the free version does absolutely everything I need it to do, so there's no big need to spend a buck. But if you've got an extra buck, you might as well get the whole kit and kaboodle. 
You can designate multiple folders to include in the random display, or specific pictures from a folder. And they can be anywhere in your file system. So if you have photos in one place and graphical images in another, you can still select both.

You can pick the color of the background, the color of your clock or if you want a clock display at all. You can also set the transparency of the clock.
The app will allow you to size your images, you can use zoom or "fit to screen". And the fit to screen occurs regardless of the orientation of your phone.
One feature I'd like to see improved is the transition between images. There are only a few of these, but the horizontal slide works fine for my purpose.

What I like most about this app is that I can set it to automatically start up when the phone is plugged in and charging. I don't have to do anything, because I've already set up that preference.

All phone features are available, I receive notifications such as alarms, email, messages. It's not intrusive, it doesn't take over the phone. When I need to dismiss a reminder, answer the phone or whatever, it's a simple touch of the screen and I'm back to the phone's "desktop". When I'm done using the phone, I can set it back on its little stand and recall the slideshow from the Recent Apps screen and tap Photo Frame to resume your photo display.
There are a few quirks that need to be worked out. I have to close the app and remove it from Recent Apps to get my Flashlight app to work. And when I unplug the phone, the "sleep" mode fails to execute on occasion.

It's a great digital frame app! I love it!

Check out the Android App Review and see the other packages I thought were worth mentioning. I looked at quite a few, but I've only listed the top popular apps.


© 2012-2013 Evilwordsmith.com. All Rights Reserved. Springwolf, D.D., Ph.D.