Did You Miss It?
Well here it is.
After Sunday's Daytona 500, Denny Hamlin; driver of the #11 FedEx Toyota for Joe Gibbs Racing, expressed his frustration on Twitter. Evidently Denny was upset with his 14th place finish. (2013 Daytona 500 Results @ SBNation).
After the race he tweeted to Brad Keselowski:
@dennyhamlin
keselowski sorry I couldn't get close to you cuz your genius teammate was too busy messing up the inside line 1 move at a time
A little while later Joey Logano, driver of the #22 Penzoil Ford for Penske Racing; tweeted a response. But if you check Joey's Twitter page, you may not find that response.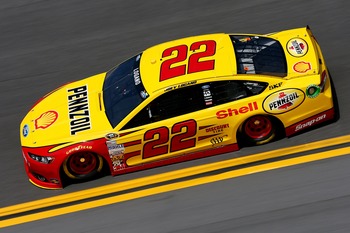 Did Joey delete his tweet after thinking better of a Twitter war with his former teammate at Joe Gibbs Racing?
Last year, if you didn't know, Joey drove the #20 Home Depot Toyota for JGR. Leaving people to wonder if there were problems at the old crew that were hidden behind closed doors.
Of course technology makes it hard to take things back once there out there on the internet. You can delete items from your twitter account, but you won't be able to delete them from the accounts of others. Consequently that initial tweet isn't lost.
That response from Joey was quickly retweeted by Jeff Gluck, the new Race Reporter for USA Today (Jeff Gluck was reporting for SBNation last year. It's great to see him getting the USA Today opportunity! Congrats Jeff). So here's Joey's initial response:
@JoeyLogano:
@DennyHamlin I Remember when you were MY genius teammate #LoveYouMeanIt
And simply to share the proof, here's a graphic of Jeff's retweet.

Of course other people began piling on with comments and retweets as well. Some of Nascar's personalities such @Nascarcasm and @TheOrangeCone added their two cents to the fray.
I can understand Joey trying to take the high road and rethink his response. When you play in the gutter with the riff raff you will get dirty. Denny's comment was very disappointing and uncalled for. Not to mention tacky and unprofessional.
If he wanted to move up in the field, then perhaps he should pass those in front of him if he can. If he can't, oh well. That's racing.
On a weekend when many of Nascar's best were showing such class, after the terrible Nationwide Race and today after the Daytona 500 race, it's very sad to see our hometown boy act with such childish behavior.
After today's race, many drivers headed to the winner's circle to congratulate this years winner Jimmy Johnson. Dale Earnhardt Jr. who came in second was one of the first drivers to congratulate his teammate and the crew of the #48 team. Brad Keselowski who Denny's initial tweet was directed to, was also in the winner's circle showing his class as the 2012 Nascar Sprint Cup Champion he is.
Perhaps it's actions like this and the karma that goes with it that are keeping Denny from achieving his ultimate goals of achieving his own Cup championship. Take heed Denny, what you put out..you do get back!
All this carried over to the race in Bristol and the Twitter Feud Part II (by Nate Ryan USAToday). And continued into a third weekend and spectacular clash in Fontana – Denny vs Joey vs Tony …Uh oh!.
 .



  © 2012-2013 Evilwordsmith.com. All Rights Reserved. Springwolf, D.D., Ph.D.