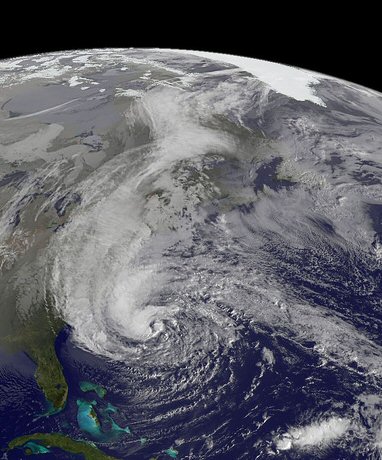 Touched By Sandy In Central Virginia
Even in the midst of disaster and challenge our little Prince looked at the storm raging outside with the innocence that only a child could have.
He opened the bedroom window and felt the full force of a misty wind gust blowing through the screen.
He came to me and said:
"Momma, I opened the window and got kissed by the hurricane."
---
Hurricane Sandy wasn't the most powerful hurricane to hit the east coast, but it was an unusually large one in area. NASA posted this picture on Sunday October 28th, 2012 to show just how big it was.
Here in central Virginia it wasn't the catastrophic storm the news had been making it out to be. We were lucky compared to the coastal areas and especially New jersey. Our thoughts and prayers go out to everyone who suffered damage and loss due to the storm.

© 2012 Evilwordsmith.com. All Rights Reserved. Springwolf D.D., Ph.D.