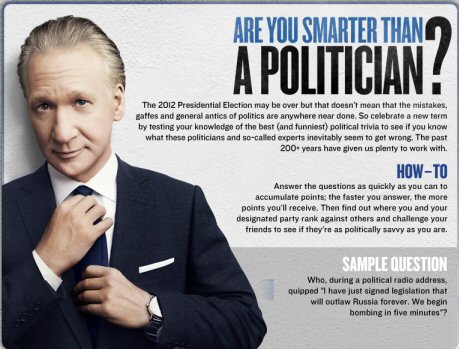 Can't Access The Quiz?
I've been playing Bill Maher's weekly trivia "Are You Smarter Than A Politician" on Facebook. Sometime in October or November it stopped working. Which was highly annoying as I was on top of the leader-board!
When you accessed the app, the bottom of the frame to load the "Breaking News" would simply spin and never load. Consequently, the script would never complete loading to the point where you could click on the links and take the quiz.
It was frustrating. After searching for a solution I finally found a link to the quiz outside of Facebook that does work.
If you've been in the same boat, try this link to complete the quiz for the remainder of the year. (You must first be logged into your account on Facebook for this to work properly.)
Bill Maher's Are You Smarter Than A Politician Trivia


© 2006-2013 Evilwordsmith.com. All Rights Reserved, Springwolf, D.D., Ph.D.