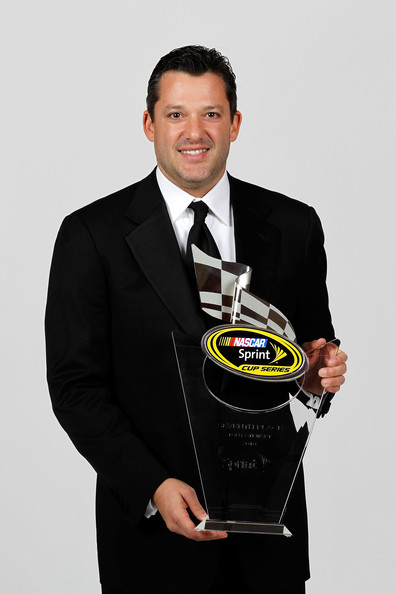 Fast Forward Through The Awards
We've watched all the Nascar Award shows that have been televised. We learned a few years ago to record them and fast forward through the boring or uninteresting parts. Last night's show was no exception and only made me more appreciative of the fast forward button.
I like Howie as a stand-up comedian. As a host of an award show, he was unimpressive and some of his antics truly took away from the 'class' that was shown by others during the evening. That was very disappointing.
In his article Nascar Awards Banquet:Thoughts On The Ceremony, Jeff Gluck mentions "..the evening became more TV-focused in recent years, it took a significant move toward that direction with a new format debuted Friday night at the Wynn in Las Vegas."
I can understand the need to break up the evening in sections for viewers. However, being a viewer means you're not in Vegas to take in the sights and sounds of the week. I would have been much happier with a fuller replay of the events that occurred during the week. Such as more tape from Are Nascar Drivers Smarter Than A Fifth Grader. I would have liked to have seen more of Tony's push-up contest with Rutledge Wood, and how about the Car Parade and burn outs on the Vegas Strip?
Gluck adds in his piece "Sprint's "Fan Voice Awards" perhaps didn't add a ton to the event, but the concept was solid and something that should be expanded".

I agree the Sprint Votes were a great addition this year. Allowing fans to vote on moments from the year and for their favorite moments or favorite drivers does make us feel like we're participating in the recognition of a sport we love. If we can't be there to participate in the festivities; at least we can participate in issuing an award or two.

Over all, it was an OK show and I'd rate it a high C. But it's definitely not in the B category yet. Give them time. They should learn a lot from this year's show and 2013 hopefully will be better. …we'll still record it and use Fast Forward when necessary.
While the awards ceremony typically marks the end of the season until the next season begins in February, that may not be the case for this year. Something some fans maybe thankful for; Sprint Cup Series cars will be on track at Charlotte Motor Speedway on Dec. 10th for testing of the 2013 race models.
One additional consolation to the semi-entertaining awards show….There's only 84 Days until the Daytona 500.
Go Smoke & the #14 Team!

© 2012 Evilwordsmith.com. All Rights Reserved. Springwolf D.D., Ph.D.